Michael R. Hall, DDS
Dr. Michael Hall graduated from West Virginia University with his Doctor of Dental Surgery degree in 1998. Before attending dental school, he studied as an undergraduate at Idaho State University and Weber State University. While he has been practicing dentistry in our community for over 20 years, Dr. Hall remains committed to continuing his education in the dental field so he can provide you and your family with the highest possible level of care. He has received advanced training in CEREC® same-day dentistry and dental implants, and his greatest goal is to provide the best possible dental care. Dr. Hall is a member of the American Dental Association and served in the U.S. Air Force.
Marissa — Office Coordinator
Marissa was been with our practice since December 2016. She has been married since 2017 and has two young boys. Marissa loves being outdoors, playing volleyball and tennis, going on hikes, and enjoying beautiful scenery.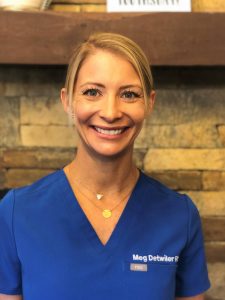 Meg — Registered Dental Hygienist
Meg joined our team in August 2018. She graduated in 2008 with a bachelor's degree in dental hygiene from the Oregon Institute of Technology, receiving the distinction of cum laude. Central Oregon Dental Center allows her to utilize her experience and passion for dentistry and provide individualized care. She takes pride in educating patients about all areas of their care and promoting systemic health through proper oral hygiene. She is dedicated to providing an exceptional experience for every patient and contributing to a great team atmosphere.
Meg is married to her husband, Cheyne, and has two twin boys, Mav and Cruz. They like to spend summers at the lake on their boat and winters up in the mountains playing in the snow. You can also find them riding their bikes most days.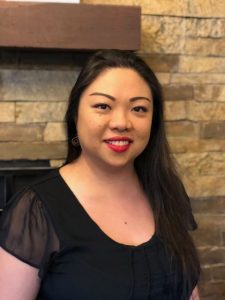 Oanh — Office Manager
Oanh was raised in New York until her family moved to Nebraska when she was 9. During her sophomore year in high school, her family moved to Portland, Oregon, and that is where she met her high school sweetheart and husband. They have been married for over 15 years and moved to Bend in 2016. They have two children, Leon and Emma. Oanh loves cooking all types of food and traveling with her family.
Oanh has been working in the dental field for over 13 years, in particular working with dental insurance. She is therefore very good at helping our patients understand their dental insurance benefits!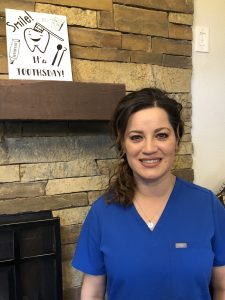 Teresa — Lead Assistant
Teresa has been with our practice since 2015 and and is a great help to our patients and team members every day! She loves promoting great oral health for our patients. Outside of the office, she has two daughters, one son and three grandchildren, and she enjoys cooking, traveling, crafting and shopping.